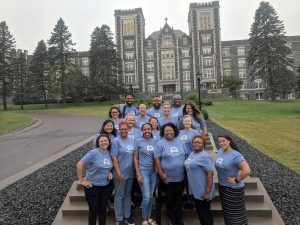 Duluth, MN. July 28 – August 1, 2018– Counselors from across the United States participated in the CS@CSS event at the College of St. Scholastica, a professional development opportunity provided by the National Center for Women & Information Technology (NCWIT) Counselors for Computing (C4C) program. Faculty (Jennifer Rosato and Tom Gibbon) and staff (Cassandra Broneak) at the College of St. Scholastica helped to organize this learning opportunity and supported those who were in attendance. This C4C training provided school counselors with information and resources they can use to support all students as they explore computer science (CS) education and careers.
Focus was placed on training the high school counselors to learn the importance of increasing CS access and opportunities for underrepresented students. Technology increasingly permeates every aspect of society and provides the foundation for most modern innovation, yet too few students are pursuing computing education or careers. If they are to get the exposure and encouragement they need, it is essential that counselors get up to speed on the knowledge and resources necessary to guide effectively. (www.ncwit.org/thefactsgirls.)
About NCWIT
The National Center for Women & Information Technology (NCWIT) is a non-profit community of more than 1,100 universities, companies, non-profits, and government organizations nationwide working to increase girls' and women's meaningful participation in computing. NCWIT equips change leaders with resources for taking action in recruiting, retaining, and advancing women from K–12 and higher education through industry and entrepreneurial careers. Find out more at www.ncwit.org/.
About the College of St. Scholastica
The College of St. Scholastica is an independent private college with locations across Minnesota, including the original campus in Duluth. Enrollment in the undergraduate and graduate programs has grown from 2,200 to 4,000 in the last decade, due, in part, to their commitment to making high-quality education available online and through convenient evening and weekend formats. The College of St. Scholastica hosts important CS education grants such as Mobile Computer Science Principles (CSP), a College Board AP CSP endorsed curriculum and professional development provider, and the TeachCS@CSS program. Approved in spring of 2018, the College of St. Scholastica will also be home to a new Center for Computing which will focus on expanding CS opportunities for students from all backgrounds and experience levels.